I saw a link to Last Week Tonight on a streaming service and wondered how they were doing. I dropped it around the time Trump got elected, because they got pretty repetitive and boring.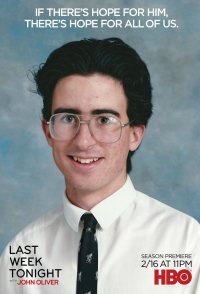 Graphs about ratings and trends of the Last Week Tonight with John Oliver TV show based on 81083 user ratings.

www.ratingraph.com
The first graph linked shows that over 9 seasons the average rating trends down from 8.2 to 7.7 out of 10. This is a bit misleading as last year only six episodes were above the trend line and this year only five are. Additionally, in the early seasons all the outliers were way above the trend line (9.5 points, 9.3) whereas now they are all below the trend line (6.5 points, 7.0). With the exception of last year, which had an abysmal mid-season, every season has either had an internal trend that was flat or declining as well.
The second graph is quite interesting as well. It shows the trend of viewer submitted rating votes over time. So while the first was showing the average rating, this is showing how many people actually bothered to tune in. Two different metrics of popularity. Again the trend is consistently declining with season 1 having an average voter base of 352.7 per episode, and season 9 having 183.8, in order words it has declined to 52% of it's original viewership.
Rotten Tomatoes tells a similar story. The seasons total audience score drops from: 94% audience score in season 1 to 68% in season 9. The total voters is a similar story, with season 1 having 148 voters, and season 9 having 21.
Had to do the bulk of the work for IMDB myself, but the trend there is very similar.
To be perfectly fair, their official reported viewership is 500k per day. And even with the drops shown over time they are hardly unsuccessful as a show, but it does demonstrate a trend of general failure that is hard to ignore.